News
And Russia did what it said… Here is the new address of the Ukrainian war!
The war, which started with the order of Russian President Putin, is entering a new phase. Weeks after Russia announced that 'targets are different now', Moscow's new military target became clear. Here is the new address of the Ukrainian war…
The war in Ukraine continues at full speed. Russian Foreign Minister Sergey Lavrov announced that the only target of Russia in the war, which he described as "Special Operation", would not be the east of Ukraine.
Speaking in the state media, the Russian minister said: "Geographical targets are different now. The targets are no longer just related to the DNR and LNR, but also to the Kherson region, the Zaporizhzhia region and a number of other regions,' he said.
After Lavrov's statements, Russia took action. British and Ukrainian intelligence announced Russia's new target.
HERE IS RUSSIA'S NEW TARGET
According to the news of the British Guardian newspaper, Moscow began to strengthen its positions on the southern front of Ukraine and to increase its military presence in the region.
The New York Post newspaper shared this development with its readers as 'the war has entered a new and deadly phase'.
The following statements were made in the statement made by the Ukrainian intelligence on the subject;
'It is almost certain that Russian troops have gathered in the south. Either Ukraine is waiting for a counterattack or is preparing to attack.'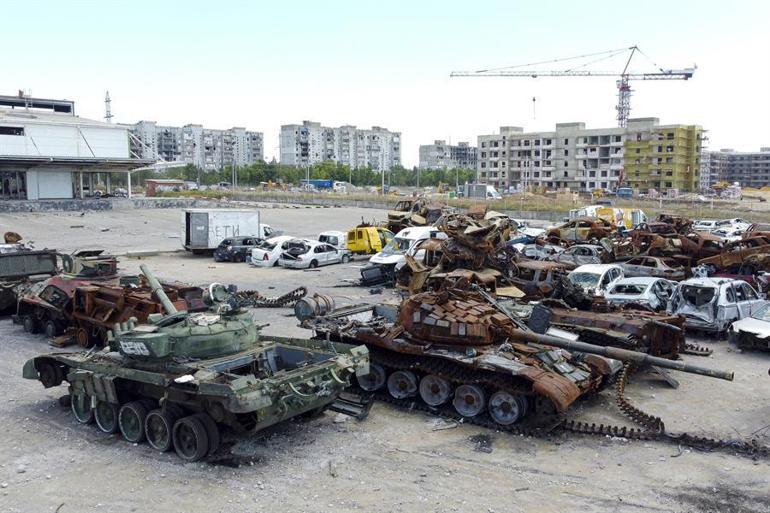 The tanks, which have become unusable in the months-long war, are gathered in Mariupol, which came under the control of Russia… (Photo: AP)
According to the news of the Guardian, the Russians continue their attacks on the Ukrainian troops in the occupied Zaporizhzhia region, while continuing to receive reinforcements.
One of the biggest obstacles to Ukraine's offensive in the south is the Zaporizhzhia nuclear power plant, the largest in Europe, which was bombed on Saturday.
Because Russia has been using the facility as a bulwark to open fire on Ukrainian forces since mid-July.
RUSSIA STILL DON'T ANNOUNCE ITS LOSSES
On the other hand, Russia has not been willing to disclose military losses for months. Moscow made its first and last official statement on the issue on March 2.
In the statement in question, Russia's loss of troops in the war was announced as 498. This data has never been updated since then.
HUNDREDS OF OFFICERS KILLED
While the Russian government rarely provides updates on the number of deaths suffered by its armed forces, announcements by local governments and newspapers indicate that hundreds of officers have died in the fighting.