Technology
WhatsApp: metaverse-themed avatars on the way?
It would seem that WhatsApp Meta wants to take a step by importing it for its own metaverse, using Facebook Bitmoji-like avatars for video calls.
Nowadays there is a lot of talk about the metaverse , and we are all a little curious to know more. Among the various peculiarities are their personal avatars, which will be an important part of the way we represent ourselves in this new world and about a month ago we heard of the interest of WhatsApp owned by Meta for a new mode for video calls that would allow you to replace the user with a virtual avatar. Today we have our first suggestion on how it might end, as WhatsApp seems poised to adopt Facebook's Bitmoji- like avatars .
WhatsApp always introduces new things and now the latest beta 2.22.16.11 introduces a section simply labeled Avatar, as noted by WABetaInfo . There we can see what appears to be the type of avatars that users will eventually be able to use, which appear to be clones of the basic 3D avatars available on Facebook and in addition to using avatars as a mask during video calls, just like on Zoom , the app he could also create stickers from his own avatar, similar to Bitmoji.
When we first heard about this feature being developed about a month ago, details about it were sparse and it wasn't clear at all how things were going to go. We now know that we are likely to have Facebook avatars with support for granular customization options for skin tone , clothing, hair color, hairstyles, posture and facial expressions, although limited variations may be offered at first.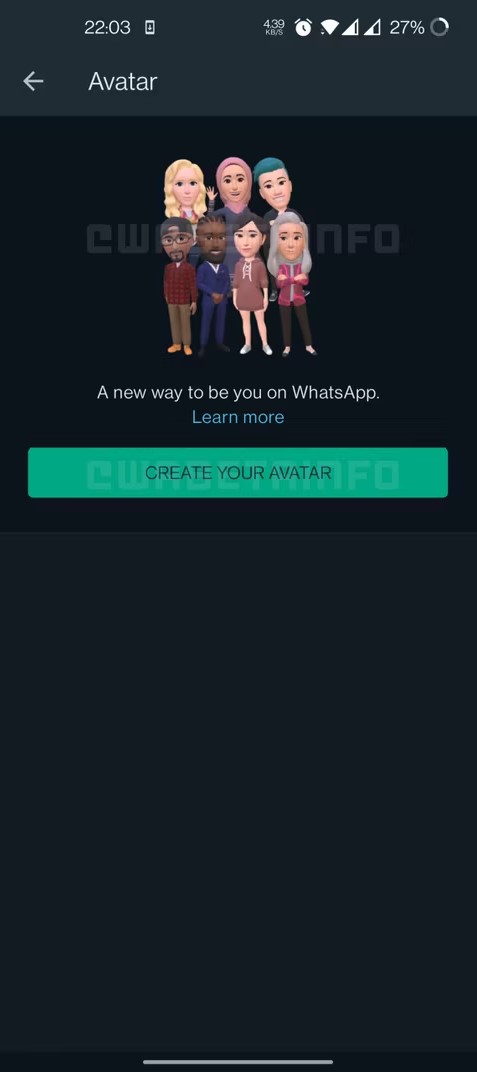 Since WhatsApp appears to be developing an entire section dedicated to avatars, it looks like it could become an integral part of the app in the future, but for now, the feature appears to be in the early stages of development and the messaging app is yet to officially receive the next. plans.
WhatsApp looks ready to borrow Facebook's Bitmoji-like avatars for video calls

 (Android Police)